Apgar Consulting team provides support in term of data exchange management which is a solution to the multiplication of business processes and the continued massive growth in the amount of data.
Our expertise
Data Integration
Data exchanges management is a solution to the multiple business processes and the continued massive growth in the volume of data. For its clients benefit, Apgar Consulting provides expertise of more than 20 consultants. Thus, we implement our technical and methodological skills to design, build and carry out the exchange platforms (Cloud/iPaaS or on-Premise) enabling the different needs in terms of data integration (MFT, ETL, MOM, EAI, ESB and API Management) to be addressed.
Exchange strategy:
Apgar Consulting supports your initiative through
Business requirements collection and analysis in term of data exchanges
The definition of functional, technical and software architecture to address the requirements
The roadmap definition to implement data exchanges
The implementation of suitable organizational and methodological bases
The support in the decision of the best data exchange solution
The building of the appropriate application base
Detailed Functional and technical design of data exchanges
Workflows, services and API implementation
The supervision of the application base and data exchange monitoring
Exchange Platform Implementation
Our teams assist your projects in term of setting up, configuring and supervising your local (On premise) or hosted (iPaaS) exchange platforms in order to better meet the possible integration scenario : local (Application-to-Application) hosted (Cloud-to-Cloud) or hybrid (Cloud-to-On Premise).
Our expertise in addition with our practice on the different integration patterns allow us to provide support to carry out exchanges within your application systems.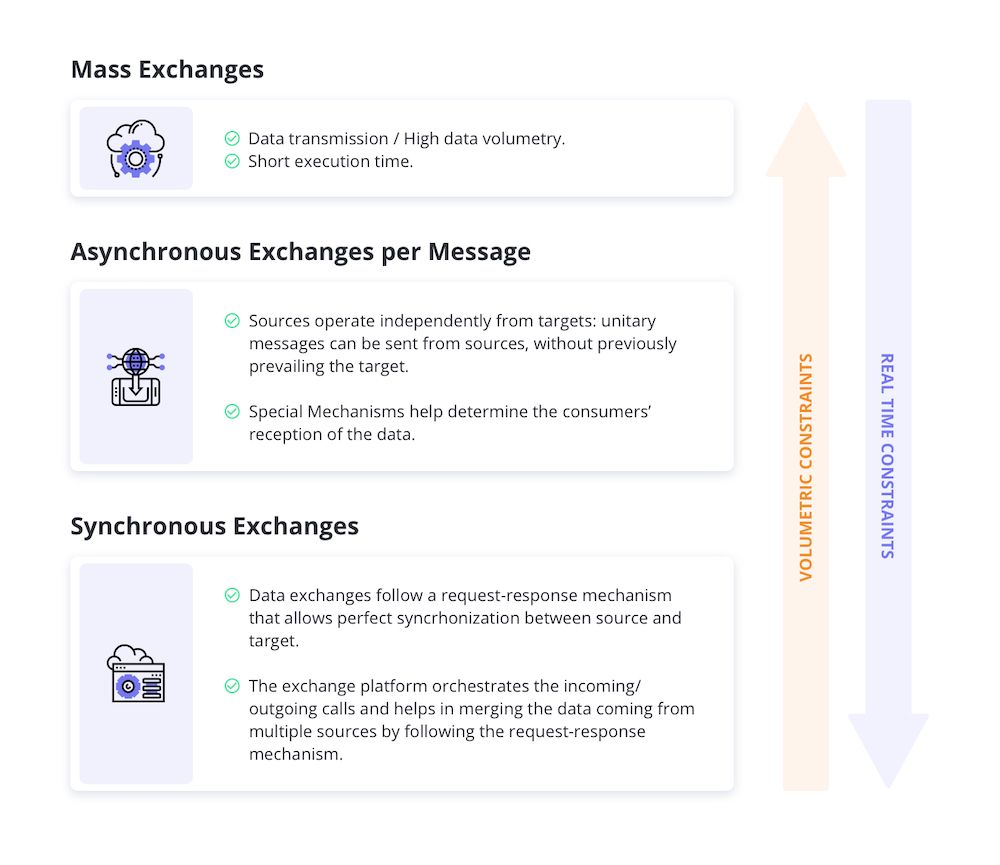 This implementation relies on:
In-depth knowledge of the different data exchange technologies (MFT, ETL, MOM, EAI, ESB and API Management) selected to address your requirements in term of data integration
A set of viable tools and methods aiming to speed your projects up and industrialize your approach
iPaaS
Integration in the cloud is a technological solution to the highly heterogeneous integration challenges we face with our clients.
Our knowledge in term of implementation of iPaaS solutions allow us to address your data integration, applications and processes requirements within varied architectures scenario: cloud-to-cloud, cloud-to-on-premise, on-premise-to-on-premise and B2B.
Using iPaaS as integration solution allows you to:
Reduce the initial implementation cost of your integration platform
Disregard the underlying hardware and software infrastructure setting-up complexity
Reduce the exchanges infrastructure supervision and maintenance costs
Promote the architecture elasticity in order to optimize the allocation and use of the data exchanges execution dedicated resources
Simplify exchanges implementation phase
We use cookies on our website to give you the most relevant experience by remembering your preferences and repeat visits. By clicking "Accept All", you consent to the use of ALL the cookies. However, you may visit "Cookie Settings" to provide a controlled consent.